The Sunday Edition, CBC Radio 1, Michael Enright, June 21, 09
CRIME MUSIC: BERNARD HERRMANN REVISITED
LA SCENA MUSICALE: VOL. 15.1 – SEPTEMBRE 2009
Crime Music: Bernard Herrmann Revisited
Ensemble Ulysse/Antoine Bustros
Disques XXI XXI-CD 2 1644 (52 min 38 s)
Né au Caire, Antoine Bustros vit à Montréal. Il a étudié à l'Université McGill et pris des cours particuliers auprès d'Elmer Bernstein. Sa fréquentation du jazz et de la musique contemporaine l'a manifestement bien préparé à réaliser ces arrangements pour orchestre de chambre de la musique de Bernard Herrmann. Le travail de Bustros est d'autant plus notable qu'il a fait œuvre d'archéologie musicale en tirant ces œuvres de l'ombre. Retrouvées dans de vieux cartons jaunis et rédigées de la main du maître, les partitions des six suites composées en 1953 et 1954 pour une série radiophonique intitulée Crime Classics sont typiques du style de Herrmann : orchestrations savantes et remarquablement colorées baignant dans des atmosphères mystérieuses. Les arrangements de Bustros respectent l'aspect évocateur des commentaires musicaux de Herrmann, élément essentiel pour transmettre la puissance émotive des sous-textes originaux et franchement géniaux que cet homme hors du commun savait créer. Peu de compositeurs ont élevé la musique « cinématographique » à un tel degré de raffinement. La célébrissime suite Psycho, quant à elle, bénéficie d'un traitement de chambre qui rehausse sa brillante modernité. Les musiciens de l'ensemble Ulysse sont tout à fait à la hauteur de la tâche.
Frédéric Cardin
*****
The Star; published: June 16, 2009, by John Terauds

The soundtrack for Hollywood's so-called Golden Age overflowed with rich melodies puffed up by armies of stringed instruments. Today's blockbusters strut on the stilts of pounding percussion (the worst offender this year is the Angels & Demons soundtrack, bursting with cheap instrumental and vocal effects). Between these two eras, the pendulum swung toward simplicity. It was the time of Bernard Herrmann (1911-1975), best known for his eerie, spare soundtrack to Alfred Hitchcock's Psycho. His works use small handfuls of notes to evoke deeper chills than any booming symphony. Montreal composer Antoine Bustros has arranged the music from Psycho into a suite for an octet of strings and winds from his Ensemble Ulysse. It adds colour to Herrmann's haunting minimalism. Also included on this fascinating CD are six scores for the 1953-54 CBS series Crime Classics. The performers are sharp but, as is the case when most soundtracks are divorced from their visuals, something is lost. What amazes us in a theatre can get dull over a 60-minute audio-only experience. The booklet is excellent.
*****
Musique de Crime
au Festival International de Jazz de Montréal
The Gazette; published: Monday, July 03, 2006, by Juan Rodriguez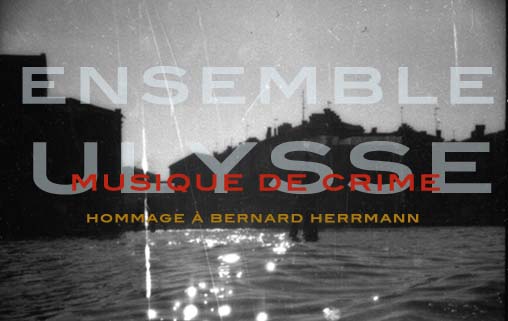 Chamber music moderne, wrapped in a tribute to Hitchcock composer Bernard Herrmann with a clever film noir pastiche video accompaniment, was almost too good to be true in the hands of pianist Antoine Bustros and l'Ensemble Ulysse at the Musee d'art contemporain. This was where the 1920s fantasist Kurt Weill met melodramatic 1940s movie music through the postmodern filter (i.e. a CD soundtrack, Pieces Perdues, for a non-existent film). It was as delightful and intriguing as you might imagine, "in a dark room crossed by a beam of light" says Bustros, "unaware that music operates while forgotten, you become the beam of light…". Mission accomplished.
JUAN RODRIGUEZ
*****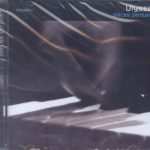 Critiques de/reviews of
PIÈCES PERDUES, Ensemble Ulysse (Local Distribution)

10 mars 2005
Pièces perdues
Réjean Beaucage (VOIR)
"Heureux qui comme Ulysse a fait un beau voyage" et, sans doute, traversé des atmosphères variées à souhait, comme celles des pièces recueillies ici. Pièces perdues se présente comme une "bande originale de film inexistant" et c'est tout à fait ça. La musique d'Antoine Bustros voyage entre le smooth jazz, la musique de salon et des airs teintés par les traditions d'Europe de l'Est, évoquant par moments Kurt Weill, Francis Poulenc ou Nino Rota. Belle palette! L'ensemble de neuf musiciens (sax, clarinette, trompette, trombone, violoncelle, contrebasse, guitare et échantillonneur accompagnent le piano du compositeur) traverse cette étendue de styles avec aisance et ensoleille le scénario imaginaire qui défile dans la tête de l'auditeur.
22 janvier 2005
Ensemble Ulysse; Cinéma pour l'oreille
Alain Brunet
La Presse
Il a beaucoup composé pour le cinéma, il a entrepris de se faire son cinéma. Sur ce disque fort agréable, le pianiste Antoine Bustros témoigne d'un imaginaire éclectique, ouvert sur différents styles et différentes pratiques musicales : jazz, tango moderne, électroacoustique, musique répétitive américaine (Philip Glass, particulièrement), esthétique inspirée de grands compositeurs du cinéma Nino Rota, musique classique européenne, musique contemporaine, etc.
À l'écoute de ces Pièces perdues , on peut éviter le piège de la plate identification des genres pour ainsi se laisser guider à travers cette succession d'évocations, soudées avec goût, raffinement et circonspection. Ces Pièces perdues forment un tout cohérent, sensible et élégant, regroupent neuf musiciens de grande qualité, issus d'horizons différents le clarinettiste Mathieu Bélanger, la violoncelliste Véronique Poulin, l'échantillonneur Greg Smith, on en passe. Voilà donc une musique de chambre qui vaut le détour. On ne parle pas ici d'une musique visionnaire, mais bien de l'imaginaire séduisant d'un compositeur chevronné, qui brille peut-être plus dans la synthèse que dans la singularité.