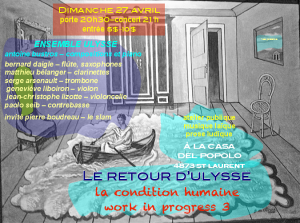 (English below)
Nous avons l'immense plaisir d'annoncer le troisième atelier public La condition humaine – work in progress 3 avec l'ensemble Ulysse.
La prestation aura lieu dimanche 27 avril, 21h à la Casa del Popolo, 4873 Boul. St-Laurent (coin St-Joseph). Ouverture porte à 20h30/spectacle à 21h.
Le spectacle de musique narrative combine le répertoire de l'ensemble à la prose et aux improvisations du septuor.
Des nouvelles pièces seront créées pour l'occasion. antoine bustros lira la nouvelle Adieu John, qui sera mise en musique par l'ensemble.
En première partie, Pierre Boudreau présentera du Slam d'humour et de réflexions sagaces.
10$ (5$)
***
We are happy to announce the third open atelier, La Condition Humaine – work in progress 3 with the Ensemble Ulysse.
When: Sunday, 27 April, 9 p.m. (Door opens at 8h30.)
Where: Casa del Popolo, 4873 Boul. St-Laurent (south of St-Joseph). (N.b. the venue is at the back of the bar.)
What: Ensemble Ulysse will play a repertoire of its classics and some new pieces straight out of the composer's (i.e. Antoine Bustros') oven. The music, often of a narrative nature, varies in genre and travels from jazz moods to Nino Rota-esque airs via neo-baroque playfulness. Antoine Bustros will lace the show with a bit of sassy prose (his short story "Adieu John") to which the ensemble provides structured improvisations. The whole event will be conducted with Bustros' usual ludic buoyancy and if all goes well will catapult you out of the post-winter woes straight into Spring madness.
The event starts off with a slam performance poetry created and delivered by the talented Pierre Boudreau.
Why: Because Spring.
How much: Regular $10, reduced $5 (student, un(der)employed, starving artist)
Hope to see many of you!