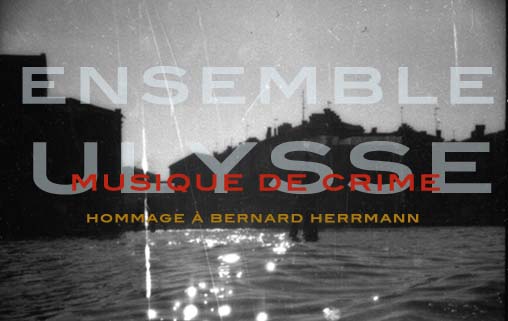 Communiqué – pour diffusion immédiate
Dimanche 14 octobre 2007 – 15h
Centre culturel de Pointe-Claire – Stewart Hall
176, chemin Bord-du-Lac – Lakeshore, Pointe-Claire
Laissez-passer disponible à la maison de la culture.
Au programme: L'ensemble Ulysse présente six suites musicales basées sur la musique du compositeur Bernard Herrmann, suivi d'une sélection et de la création de pièces du répertoire original de l'ensemble composé par antoine bustros.
Suites
– The Boorn Brothers and The Hangman: A study in Nip and Tuck
– The Crime of Bathsheeba Spooner
– Jean-Baptiste Troppmann, Killer of Many
– The Shockingly Peaceful Passing of Thomas Edwin Bartlett
– The Assassination of Leon Trotsky
– The Final Day of General Ketshum, and How He Died
Répertoire original

– Soaked in Blood
– Madeleine Smith
– Valse déhanchée
– La fonte des neiges 1-2-3
– Intelligent Design/singes
– Laurel tango
En 1953-54, Bernard Herrmann écrit la musique de la série radiophonique The Crime Classics pour CBS qui, sur un ton d'humour noir, présente des crimes célèbres. L'ensemble Ulysse propose une adaptation de ces partitions du compositeur connu pour sa longue collaboration avec Alfred Hitchcock. Bernard Herrmann a donné ses lettres de noblesse à la musique de suspense. Cette adaptation originale est un hommage à son oeuvre.
L'ensemble Ulysse
matthieu bélanger • clarinettes en Bb et basse
bernard daigle • flûte et saxophones
serge arsenault • trombone
véronique poulin • violoncelle
nicolas caloia • contrebasse
antoine bustros • piano et direction
Information : 514-630-1220
ulysse.ensemble@sympatico.ca